[et_pb_section admin_label="section"] [et_pb_row admin_label="row"] [et_pb_column type="4_4″][et_pb_text admin_label="Text"]
Organisations worldwide are relying on global mobility services to assist them to fulfil workforce demands efficiently.
At the same time the competition for acquiring the best talent is heating up, amidst a shifting economic landscape and stricter compliance requirements.
To accomplish organisational goals, we highlight some areas that global mobility teams should focus on to deliver maximum value.
Organisations are increasingly recognizing the value of global mobility in helping them reach their business objectives. But how can global mobility provide tangible value to organisations?
Here are a few things to consider:
Global mobility's strategic role
Global mobility is becoming increasingly important nowadays when the demand for agile working practices has never been higher. To capitalise on its benefits, mobility should play a more strategic role in corporate culture. It should also help businesses anticipate and respond to changing needs.
An agile mindset is key. Global mobility professionals can advise on future mobility needs of the organisation and devise strategies to support the business objectives.
Putting in place processes that allow flexibility in reacting to future mobility demands allows an agile business to swiftly adjust to changes.
In addition, having a structured approach to global mobility helps align it with strategic objectives. This can result in cost savings and effective workforce management. At the same time, it also provides insight into labour trends. This allows businesses to better assess their needs and plan ahead for infrastructure and capacity.
Furthermore, to attract global talent, there should be adequate opportunities for talent development. Global mobility also offers opportunities for developing the skills of global teams, giving talented employees access to international experience.
Cost control
Containing costs remains one of the most important factors for any business. It is also one of the main objectives of global mobility teams.
As business operations become increasingly complex, containing costs through improved operational efficiency is a top priority for most organizations.
One measure that can be applied in terms of controlling costs is to outsource certain tasks or projects. These may traditionally have been handled in-house, but outsourced to reliable and knowledgeable external providers can be a cost-efficient solution. This can also lead to a potential benefit from increased expertise.
Moreover, technology can be leveraged to deliver significant cost savings when it comes to global mobility. Automating manual processes helps reduce administrative burden and delivers resources quickly, allowing for greater cost efficiency.
Cost control is a challenge that all global mobility professionals face. However, with the right insights and strategies, it can be managed effectively.
Global mobility fosters compliance
As more and more companies expand globally, complying with local laws and regulations can become a major challenge.
From managing visa and work permits to ensuring compliance with local labour laws, the responsibilities of a global mobility manager are numerous.
Complying with all tax, social security or immigration regulations around the world can be difficult. Above anything else, corporate global mobility professionals need access to reliable local experts and relevant know-how. They need trustworthy tax specialists, immigration lawyers, social security and labour law professionals.
As such, global employers must make it a priority to understand the complex nuances of their employees' international workforce.
OUR SOLUTION
To enable a higher level of compliance, make sure all costs and expenses are tracked, planned and monitored, as well as to improve employees' satisfaction by providing them with expert assistance and advice, businesses should use xpath.global SaaS-enabled marketplace.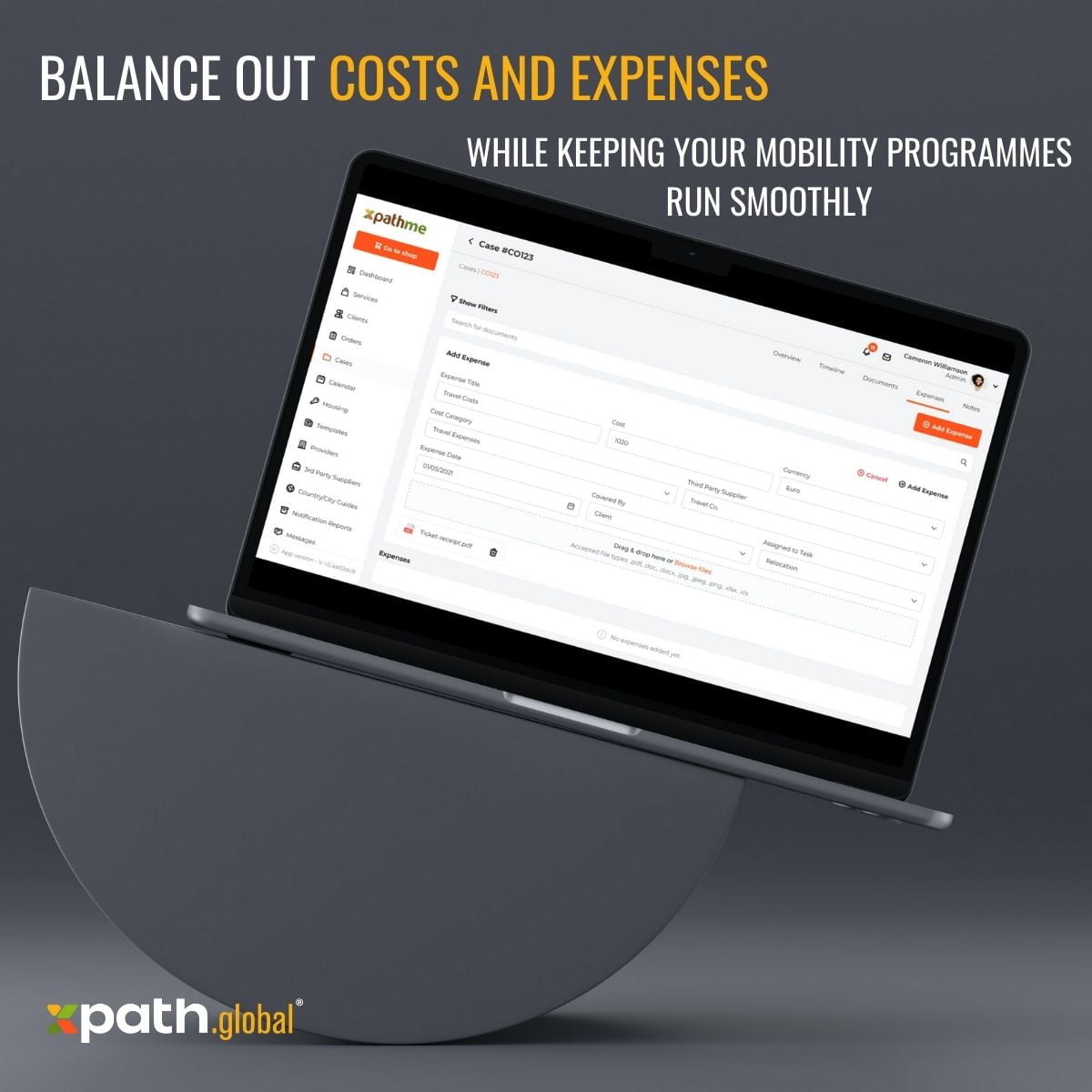 Accessing our digital platform makes it significantly easier for any global mobility to maintain compliance during international assignments. Furthermore, it allows them to do so while minimizing associated risks and keeping costs in check.
The xpath.global advantage:
You can remain in control with the cost-tracking feature. It allows you to monitor all related expenses and costs related to an international assignment in real-time. Staying up-to-date with your budget will help with planning and decision-making.
On top, you can filter expenses by categories or types to get a better understanding of your spending.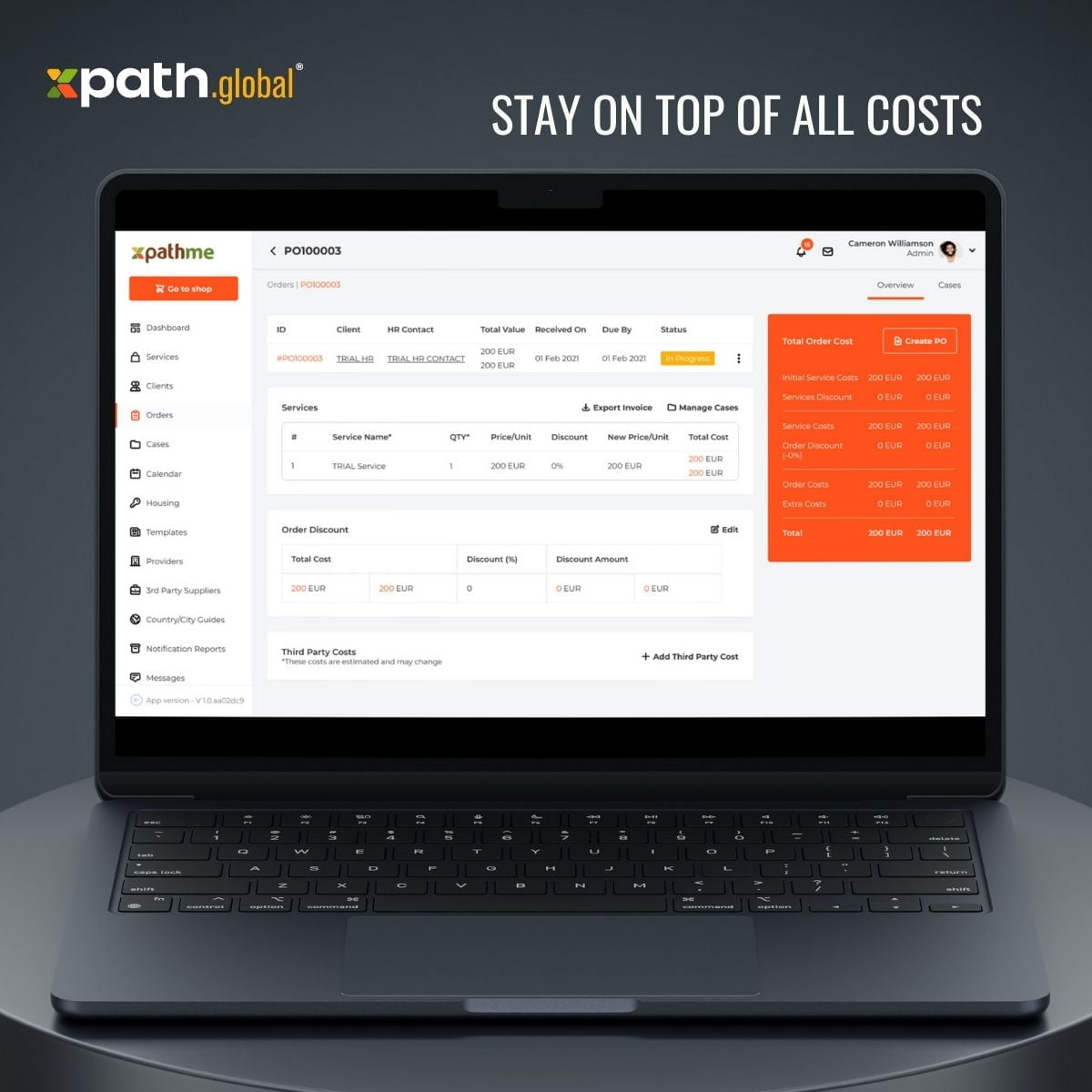 While managing international assignments, you can add all costs and expenses: from all contracted vendors, as well as third-party suppliers. Relocation services, immigration and visa support, travel costs, temporary housing or translations – all of them in the same place.
You can have access to a global platform integrated with hundreds of vendors across the world. Access to taxation, labour law, social security and immigration support. All of them are experts in their respective countries' rules and legislation. They can assist with work permits, taxes, and local labour regulations, thus ensuring compliance and risk management.
Moreover, you will stay informed with automated notifications about upcoming deadlines, expiring documents or other compliance-related issues.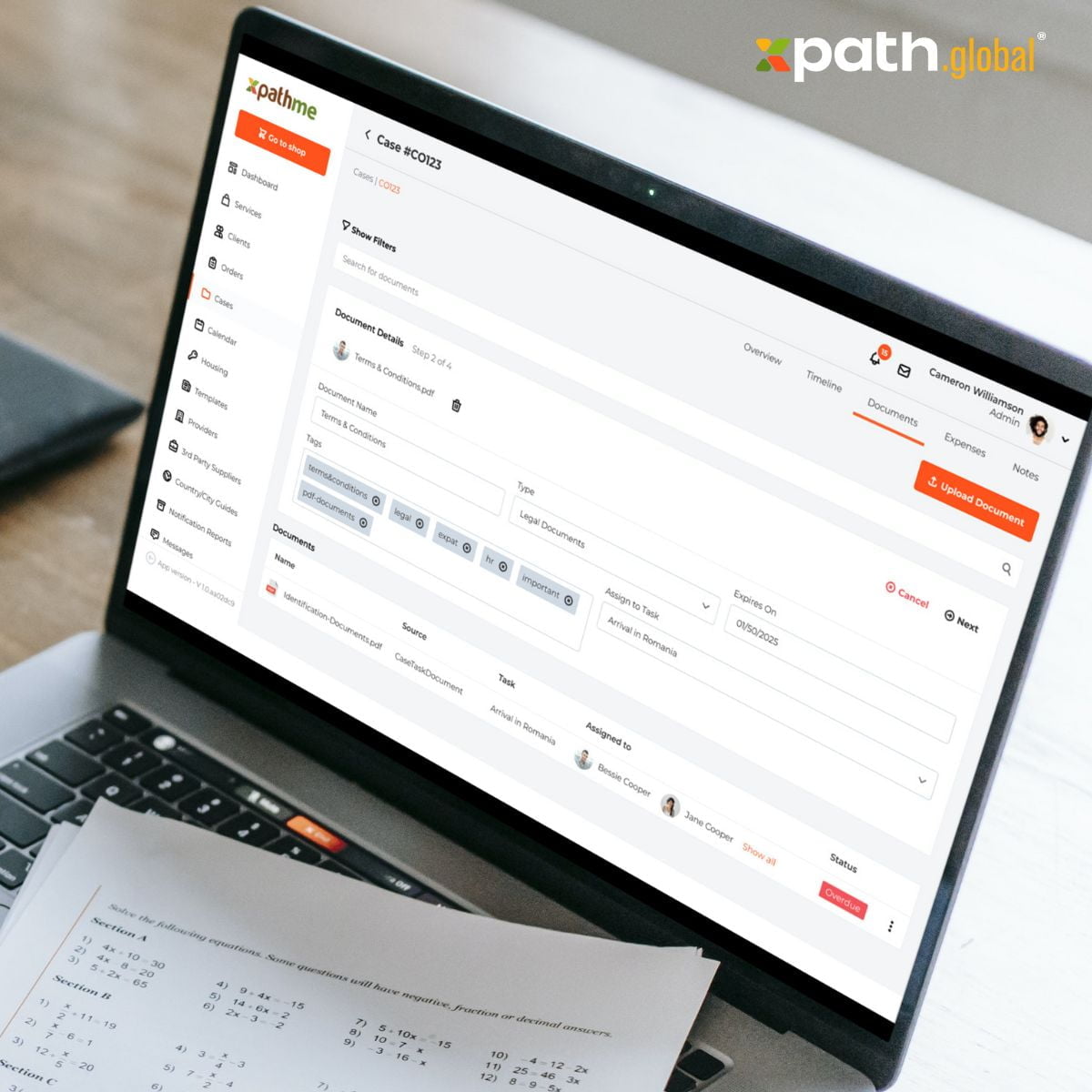 Conclusion
Ensuring international assignment compliance is essential for any business that operates across different countries. With the right digital platform and reliable vendors, you can minimise the risks associated with global mobility while staying cost-efficient.
xpath.global provides the tools and resources to make it easier for you to stay compliant without compromising on employees' satisfaction.
Need assistance? Get in touch with us and find out how we can support you!
xpath.global is a SaaS-enabled marketplace that allows you to keep track of all ongoing assignment cases and access our +450 global mobility provider partners, with over 50.000 services in over 183 countries.
[/et_pb_text][/et_pb_column] [/et_pb_row] [/et_pb_section]