Maintaining compliance during international assignments can be a major headache for HR managers.
https://potensmedelapoteket24.se/kassa-kamagra-oral-jelly/
Keeping up with changing tax, legal, and labour laws in different countries may be challenging and time-consuming.
As more companies expand globally, complying with local laws, regulations and customs can become a major challenge. As a result, managing international assignments becomes increasingly complex.
Fortunately, now HR and global mobility managers may streamline the process of maintaining compliance on international assignments.
One global platform to secure compliance
A global platform integrated with hundreds of local expert providers around the world can help a global mobility manager stay abreast of compliance.
Access to local experience and relevant know-how is essential for complying with local rules and regulations.
Such a platform provides access to hundreds of certified vendors across the world – taxation, labour law, social security and immigration. All of them are experts in their respective countries' rules and legislation regarding international assignment compliance. These professionals may assist with work permits, taxes, and local labour regulations, thus ensuring compliance.
A central repository for all relevant documents
A global platform ensures that the relevant paperwork is filed and submitted on time by relevant experts. This prevents the organisation and its workers from legal concerns or fines due to non-compliance. As well, it eliminates the need for HR departments to do their own research and find the best consultants. Thus, it saves HR a lot of time, money and resources in the process.
Such a digital platform can also help streamline the compliance process by providing a single point of contact for all compliance-related matters.
This helps global mobility managers swiftly address inquiries regarding foreign regulations and labour requirements. It also removes the need for various contacts, saving time when researching potential risks linked with each country's global mobility requirements.
Furthermore, all vendor contracts, expatriate data and assignment details are handled securely through the platform's built-in case management system. Meaning that HR departments don't have to worry about losing track of important paperwork or dealing with cumbersome contracts.
It also facilitates communication between multiple key players like tax advisors, immigration attorneys, coordinators, HRs, etc. This reduces the possible complications that arise from multiple interactions across several countries.
Transparent tracking processes
In addition to helping streamline the process of obtaining compliance documents, an online global mobility platform offers assistance in tracking expat assignments and ensuring full transparency throughout their duration.
Customizable dashboards let you track things like important visa renewals or tax filings easily. They reduce administrative burden and give you peace of mind that you covered all aspects related to the international assignment.
Alerts and notifications provided by the dashboard keep you aware of changes in locally applicable laws so that you don't miss out on important steps required by those new regulations.
OUR SOLUTION
To enable a higher level of compliance, businesses should use a global platform such as xpath.global SaaS-enabled marketplace. Accessing our digital platform makes it significantly easier for HR managers to maintain compliance during international assignments while minimizing associated risks.
Not only does this help ensure proper legal documentation but it also helps streamline processes by providing a cohesive structure for communication between stakeholders involved in an assignment's lifecycle.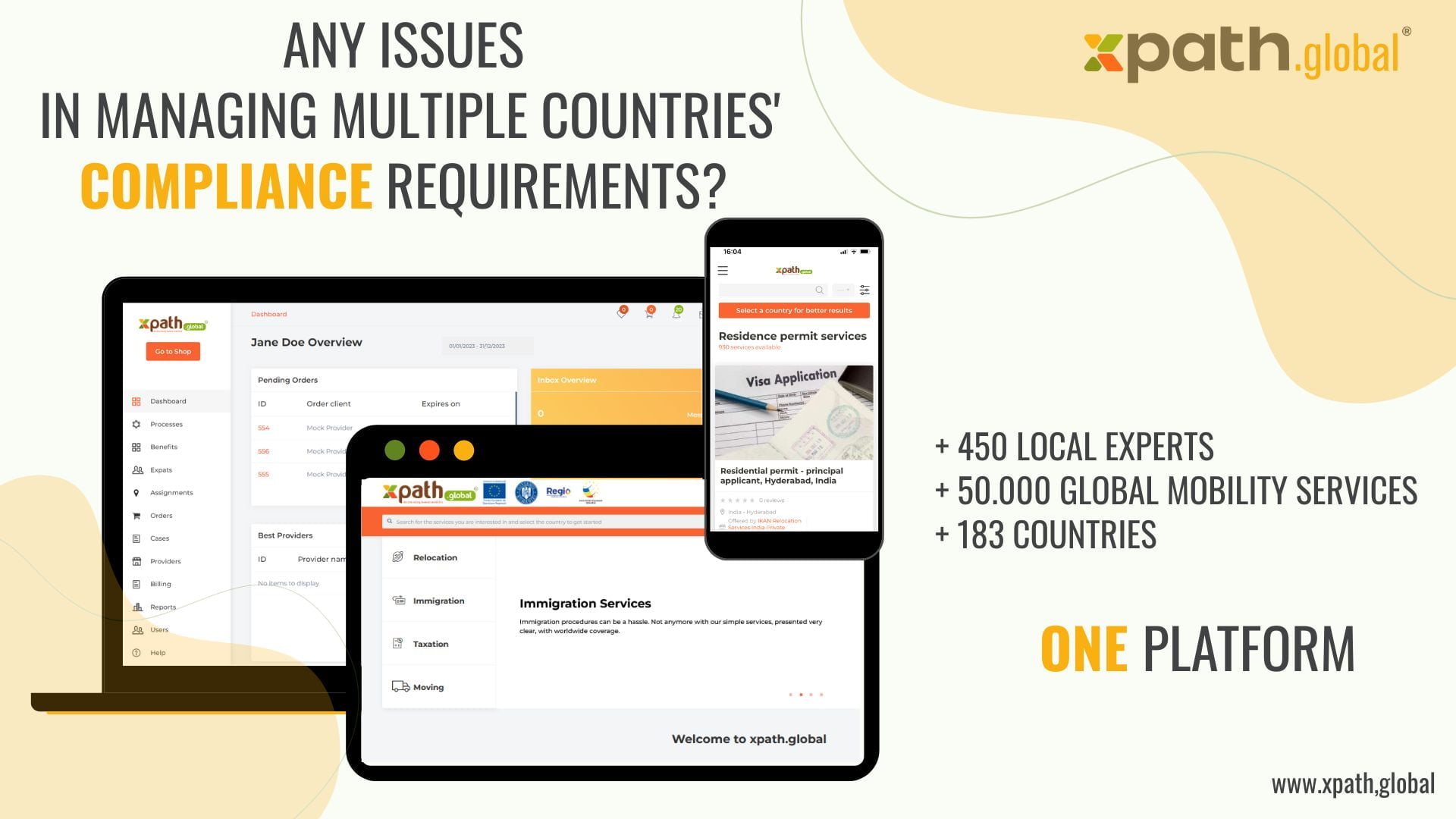 What is more, it offers access to experienced professionals who know how best to handle overseas regulatory requirements. On top, it helps streamline the entire process by providing a single point of contact. It also secures document management services which ensure that no paperwork is lost during transactions between vendors, employers and expatriates.
To sum up, xpath.global SaaS-enabled marketplace enables businesses to access hundreds of certified tax, social security, visa and immigration experts that can support international assignment compliance. Additionally, it provides a comprehensive suite of tools for HR departments to monitor compliance obligations in terms of international assignments.
Need support with compliance and managing an expatriate fleet? Get in touch with us! xpath.global is a SaaS-enabled marketplace that allows you to keep track of all ongoing assignment cases and access our +450 expert partners, local and regional global mobility providers, with over 50.000 services in over 183 countries.